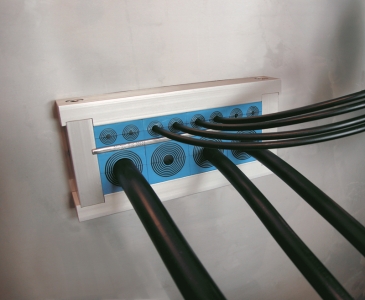 Rectangular Frame by Roxtec
Related Technologies:
Description: The CF 16 is a midsize cable entry seal ideally suited for all types of equipment enclosures. Its slim design gives a smooth, clean appearance to the cable entry. This frame is also available in an open version for installation around existing cables. The CF 16 accommodates up to as many as 30 cables ranging from 0.138" to 1.280".

Ratings: UL/NEMA 4, 4x, 12 and 13. IP 66/67 according to IEC 60529

Stainless steel and powder coated steel available.


About Roxtec

At Roxtec, we develop, manufacture and sell complete sealing solutions for cables and pipes. Our pioneering modular-based seals are the base for our rapid and sustainable growth, but the positive trend is first of all built on committed people, strong values, and a clear customer focus.

Our headquarters are situated in Karlskrona, Sweden. We have extensive research and development resources at the design and engineering department and the technical center with advanced test labs. In the same facilities are also our production and logistics centers located.

Our close co-operation with customers and the tightness within our own organization create excellent conditions for continuous improvement. The dialogue enables us to tailor new sealing solutions for customers. It stimulates us to keep on exploring new markets.

We support customers locally on more than 70 markets. Our subsidiaries are found in Brazil, China, Finland, Germany, India, Italy, Japan, South Korea, Spain, Sweden, United Arab Emirates, United Kingdom, and the US. We also have a wide network of distributors.